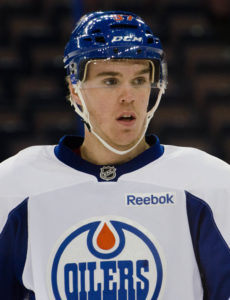 Edmonton Oilers captain and center Connor McDavid of Richmond Hill, Ontario will receive a star on the Toronto Walk of Fame in 2023 according to the Canadian Press on Monday. Considered the best active hockey player in the world today despite never having won an Olympic Gold Medal or Stanley Cup, McDavid has 303 goals and 547 assists for 850 points in 569 National Hockey League regular season games.
McDavid had 64 goals and 89 assists for 153 points in 2022-23. All were career highs that led the NHL. Also this past season, he was a +22 with 36 penalty minutes, 71 power-play points, seven shorthanded goals, 11 game-winning goals, 352 shots on goal, 525 faceoff wins, 40 blocked shots, 89 hits, 82 takeaways, and 77 giveaways.
A four-time NHL First Team All-star, McDavid has represented the Oilers in six All-Star Games. He has won five Art Ross Trophies (2017, 2018, 2021, 2022 and 2023), two Hart Trophies (2017 and 2021), three Ted Lindsay Awards (2017, 2018 and 2021), and one Rocket Richard Trophy (2023).
Even though McDavid has not yet won a Stanley Cup as of yet, he is in the running this season. The Oilers are set to face the Vegas Golden Knights in the Western Conference semifinals. One could make the argument this Oilers team has the most depth since they won the Stanley Cup in 1988. Game one of their series against Vegas is Tuesday.