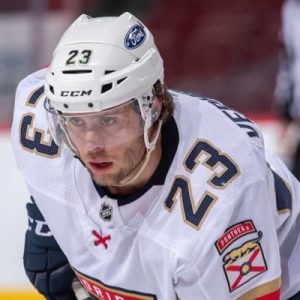 Carter Verhaeghe of Toronto, Ontario scored the biggest goal of his National Hockey League career on Sunday. In game seven of the Eastern Conference first round playoff series at Toronto Dominion Garden in Boston, he scored the Stanley Cup Playoff overtime winner as the Florida Panthers defeated the Boston Bruins 4-3. Sam Bennett of Holland Landing, Ontario and former Calgary Flames forward Matthew Tkachuk picked up the assists at 8:35 of the extra period.
Florida's win had historical significance. In terms of point differential in the regular season, the Panthers series win was the second biggest upset in NHL history. The Panthers had 43 fewer points than the Bruins in the regular season as Florida had 92 and Boston had a NHL record 135. The only bigger upset came in 1982 when the Los Angeles Kings stunned the Edmonton Oilers, even though they had 48 fewer regular season points.
The Panthers also had an impressive comeback in the series. They were once down 3-1, before winning three straight games.
Verhaeghe's first playoff overtime winner came on May 9, 2022 in a 3-2 Panthers win over the Washington Capitals from Bennett and Aaron Ekblad of Windsor, Ontario. His second playoff overtime winner came on May 13, 2022 in a 4-3 Panthers win over the Capitals from Claude Giroux of Hearst, Ontario and Ben Chiarot of Hamilton, Ontario. With the win over the Bruins, the Panthers will next play the Toronto Maple Leafs in the Eastern Conference semifinals starting Tuesday at Scotiabank Arena.