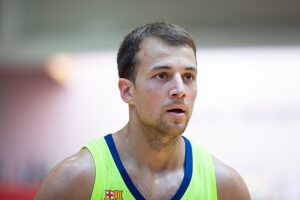 The Cleveland Cavalliers signed guard Kevin Pangos of Holland Landing, Ontario to a two-year contract worth $3.5 million according to Benyam Kidane of nba.com on Thursday. This is Pangos's first NBA contract after playing last season with Zenit Saint Petersburg of the All-Euro League.
In 2020-21, Pangos started in 39 games and averaged 13.5 points per game, two rebounds per game and 6.7 assists per game. He also had a field goal percentage of .522, free throw percentage of .845, and three-point percentage of .390.
Pangos spent five years in Europe. He was also with Gran Canaria in Spain from 2015-16, Zalgiris in  Lithuania from 2016 to 2018, and Barcelona from 2018 to 2019.
Pangos is best known for his collegiate career, where he shined with the Gonzaga Bulldogs from 2011 to 2015. He is the Bulldogs all-time leader in three-point field goals (322), and the West Coast Conference Player of the Year in 2015.
The Cavaliers now have two Canadians on their roster. Pangos is joined by power forward Mfiondu Kabengele of Burlington, Ontario. Kabengele has played in the NBA the last two seasons. In 2019-20, he was with the Los Angeles Clippers, and in 2020-21, shared his time with the Clippers and Cavaliers.
Cleveland struggled mightily during the 2020-21 NBA regular season. They posted a record of 22 wins and 50 losses.