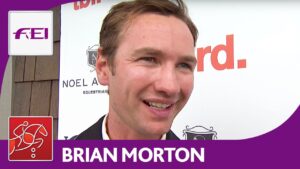 According to CBC Sports on Sunday, Brian Morton of Langley, British Columbia won the 2020 ATCO Grand Prix in Langley, British Columbia. Due to the fact that the Spruce Meadows Summer Series was cancelled in 2020 due to coronavirus, one could argue that the ATCO Grand Prix on Sunday was the most significant equestrian event held in Canada this year.
While riding his horse Cadillac, Morton was clear in the opening round, and then the 10 horse jumpoff. He was one of two equestrian riders to be clear in the jumpoff. The other was Rachel Cornacchia of Calgary, Alberta. Morton was victorious as he posted a winning time of 40.66 seconds, while Cornacchia posted a time of 40.99 seconds.
Seven other equestrian riders qualified for the jumpoff after a clear first round, with Tiffany Foster of Vancouver, British Columbia qualifying twice with two different horses. The other six equestrian riders who made the jumpoff but did not have a clear second round were Beth Underhill of Georgetown, Ontario, Braden James of Kamloops, British Columbia, Ben Asselin of Calgary, Alberta, Emily Ward of Great Britain, Kyle King of the United States and Katie Laine of Australia.
Morton meanwhile has recently moved to Calgary. There he works at Spruce Meadows.