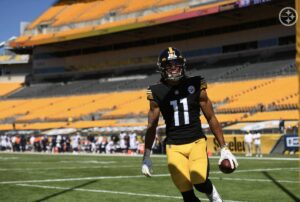 Pittsburgh Streelers wide receiver phenom Chase Claypool of Abbotsford, British Columbia has a new nickname. According to Jim Nantz of CBS Sports, Claypool is now going by the nickname of Mapletron, due to the fact he is Canadian, and has been compared to former Detroit Lions wide receiver Calvin Johnson, who was known as Megatron.
Claypool continued his marvelous 2020 National Football League rookie season on Sunday as the Pittsburgh Steelers defeated the Cleveland Browns 38-7. Claypool had four catches for 74 yards and two rushes for seven yards, of which he scored a touchdown. Claypool's rushing carry was a three yard run which put the Steelers up on the Browns 31-7 at the time.
So far in 2020, Claypool leads the Steelers with 335 yards receiving and four receiving touchdowns. Pittsburgh now improves to a record of five wins and zero losses, and are one of three teams undefeated in the NFL at the moment. They are joined by the Seattle Seahawks and Tennessee Titans.
There is now a second Canadian connection to the Steelers. According to SJ Lynn of The Sporting News on Sunday, Canadian women's tennis star Eugenie Bouchard of Montreal, Quebec is now reportedly dating Steelers backup quarterback Mason Rudolph of Rock Hill, South Carolina. It should be noted that Rudolph plays behind Ben Roethlisberger. Bouchard is best known for reaching the semifinals of three tennis grand slam events in 2014.