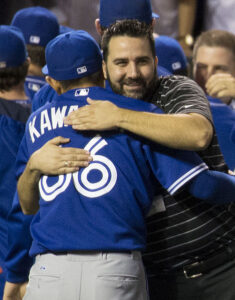 Baseball fans know that Alex Anthopoulos of Montreal, Quebec is the current general manager of the Atlanta Braves, and before that was the general manager of the Toronto Blue Jays from 2009 to 2015. However, in between his time with Toronto and Atlanta, Anthopoulos was the vice president of baseball operations for the Dodgers during the 2016 and 2017 seasons.
Among his duties included scouting for the amateur draft and helping co-ordinate the professional scouting staff according to Andy McCullough of the Los Angeles Times. In 2016, the Dodgers won the National League West with a record of 91 wins and 71 losses, before losing to the Chicago Cubs in six games in the National League Championship Series. Then in 2017, the Dodgers won the National League West again with a Major League best record of 104 wins and 58 losses. The Dodgers then went to the World Series where they lost in seven games to the Astros.
During the 2016 Major League Baseball Amateur Draft, the Dodgers selected two key players on their 2020 World Series roster. They were catcher Will Smith of Louisville, Kentucky, who was selected 32nd overall in the compensatory round, and pitcher Tony Gonsolin of Vacaville, California, who the Dodgers selected in the ninth round.
In 12 postseason games in 2020, Smith is batting .222 with one home run and 11 runs batted in. His best series came in the National League Division Series where he batted .455 in three postseason games against the San Diego Padres.
Gonsolin meanwhile had an earned run average of 2.31 during 46 2/3 innings in the regular season in 2020. He then went on to pitch 6 1/3 innings for the Dodgers in the National League Championship Series against the Atlanta Braves.
So even though Anthopoulos is no longer with the Dodgers organization,e made a difference in the two years he was there. As a result, the Dodgers are paying dividends with their World Series quest which begins Tuesday against the Tampa Bay Rays.