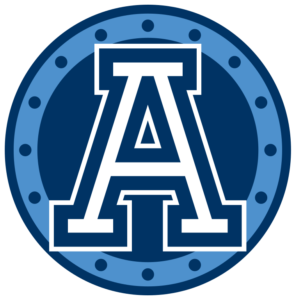 The Toronto Argonauts of the Canadian Football League selected Shane Richards first overall in the 2019 Canadian Football League draft on Thursday. The native of Calgary, Alberta who attended Crescent Heights High School, is 6'8″ and 325 pounds.
Three other offensive linemen were selected in the first round. The Hamilton Tiger-Cats drafted University of Waterloo Warriors product Jesse Gibbon of Hamilton, Ontario second overall. The Winnipeg Blue Bombers drafted University of Windsor Lancers product Drew Desjarlais of Belle River, Ontario fourth overall and the Ottawa Redblacks drafted University of Kansas Jayhawks product Alex Fontana of Toronto, Ontario seventh overall.
Other first round picks included the Edmonton Eskimos drafting defensive lineman and University of Laval Rouge et Or product Mathieu Betts of Montreal, Quebec third overall, the Blue Bombers drafting defensive end and University of Tennessee Volunteers product Jonathan Kongbo of Surrey, British Columbia fifth overall, the Saskatchewan Roughriders drafting wide receiver and University of Arkansas State Red Wolves product Justin McInnis of Pierrefonds, Quebec sixth overall and the Calgary Stampeders drafting wide receiver and University of Connecticut Huskies product Hergy Mayala of Montreal. Quebec eighth overall.
The only teams not with a first round pick were the British Columbia Lions and Montreal Alouettes. The Lions had traded their first round draft pick to the Blue Bombers. The Alouettes selected three in the second round as they drafted Kaion Julien-Grant of Toronto, Ontario 13th overall (wide receiver from St. Francis Xavier), Nathan Anderson of Toronto, Ontario 16th overall (defensive lineman from Missouri) and Samuel Thomassin of Quebec City, Quebec 19th overall (offensive lineman from Laval). The Lions first pick was not until the third round when they selected Missouri linebacker Noah Robinson of Mississauga, Ontario 26th overall.