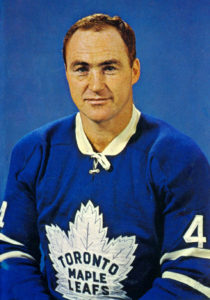 One of the greatest National Hockey League multi-positional players of all time passed away at the age of 91 on Thursday. Red Kelly was a defenseman for the Detroit Red Wings from 1947-1960 and then a center with the Toronto Maple Leafs from 1960-1967. The native of Simcoe, Ontario died in Toronto.
Kelly was an eight-time Stanley Cup champion. He won with the NHL's top team prize with the Detroit Red Wings in 1950, 1952, 1954, and 1955 and with the Toronto Maple Leafs in 1962, 1963, 1964 and 1967. A six-time NHL first-team all-star, Kelly played in 12 NHL All-Star Games. Kelly won the Lady Byng Trophy in 1951, 1953, 1954 and 1961. He also won the Norris Trophy in 1954 as the NHL's top defenseman, becoming the only player ever to win the Lady Byng Trophy and the Norris Trophy in the same season.
In 1316 regular season games with the Red Wings and Maple Leafs, Kelly had 281 goals and 542 assists for 823 points. In 164 playoff games, Kelly had 33 goals and 59 assists for 92 points. After his playing career, Kelly would go on to spend 10 seasons as a NHL head coach with the Los Angeles Kings, Pittsburgh Penguins and Maple Leafs.
Remarkably while playing for the Maple Leafs, Kelly was a member of parliament in the Canadian House of Commons. He represented the Liberal Party in the riding of York West from 1962 to 1965. Kelly was inducted into the Hockey Hall of Fame in 1969, the Ontario Sports Hall of Fame in 2001, named to the Order of Canada in 2001 and had his number four retired in 2016.