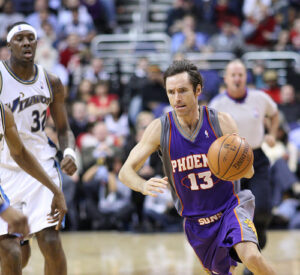 Steve Nash of Victoria, British Columbia, is being inducted into the FIBA (International Basketball Federation) Hall of Fame according to Rogers Sportsnet. In an announcement that was made on Tuesday, Nash becomes the first Canadian player and fourth Canadian overall to be inducted. He follows basketball inventor James Naismith of Almonte, Ontario, referee Allen Rae of Weyburn, Saskatchewan, and coach Jack Donohue of Ottawa, Ontario.
Nash is part of the 2020 class. The announcement of last year's class was delayed because of coronavirus. The 2021 Hall of Fame Class will be announced Thursday.
Nash is being inducted because of his remarkable performance for Team Canada at the 2000 Olympic Games in Sydney. Even though Canada was unable to win a medal, Team Canada exceeded expectations by winning Group B with a record of four wins and one loss, before losing to France 68-63 in the quarterfinals. Nash's best game came on September 25 as he scored 26 points in an 83-75 win over Yugoslavia.
There are eight other players being inducted. They are Isabelle Fijalkowski of France, Mieczyslaw Lopatka of Poland, Agnes Nemeth of Hungary, Shin-ja Park of South Korea, Modestas Paulauskas of Lithuania, Kenichi Sako of Japan, Alexander Volkov of the Ukraine, and Jure Zdovc of Slovenia. Meanwhile, three coaches are also being inducted. They are Ruben Magnano of Argentina, Svetislav Pesic of Serbia, and Tara VanDerveer of the United States.