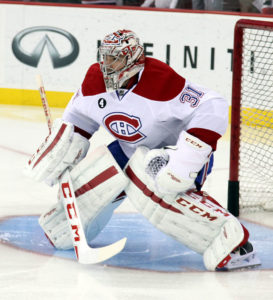 Canadian Olympic gold medalist Carey Price of Vancouver, British Columbia notched his 49th career National Hockey League shutout and first of the 2020-21 season on Tuesday. Price made 17 saves as the Montreal Canadiens blanked the Edmonton Oilers 4-0.
Price made seven saves in the first period, four saves in the second period, and six saves in the third period. Darnell Nurse of Hamilton, Ontario, and Kris Russell of Caroline, Alberta led the Oilers with four shots on goal each.
Offensively, Brendan Gallagher of Edmonton, Alberta was one of four Canadiens to score. He was joined by Jesperi Kotkaniemi, Arturri Lehkonen, and Tomas Tatar. Gallagher, who had one goal and one assist for two points, was also one of four Canadiens to have a multi-point game. The others were Lehkonen (one goal and one assist), Paul Byron of Ottawa, Ontario (two assists), and Phillip Danault of Victoriaville, Quebec (two assists).
On the season, Price now has a record of 11 wins, five regulation losses, and five losses in extra time. He has a goals-against average of 2.59, and a save percentage of .906.
The Canadiens are currently in fourth place in the North Division with a record of 15 wins, eight losses, and nine losses in extra time for 39 points. They have a four-point lead on the Calgary Flames and the Vancouver Canucks for a playoff spot.