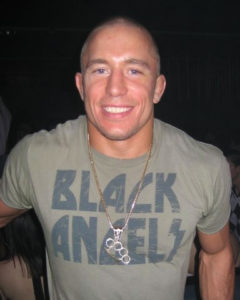 Georges St-Pierre of Saint-Isidore, Quebec has something new on his resume as a high performance mixed martial artist– UFC champion in middleweight, not welterweight. On Saturday night at Madison Square Garden in New York City, St-Pierre beat Michael Bisping of Cyprus/Great Britain in the third round via submission.
St-Pierre becomes only the fourth UFC fighter ever to be a multi-division champion. He joins an exclusive list that includes Randy Couture of Everett, Washington (heavyweight and light heavyweight), B.J. Penn of Kailua, Hawaii (lightweight and welterweight) and Conor McGregor of Ireland (featherweight and lightweight).
Now the question will be when does GSP decide to fight next and where? There has been talk that he has interest in representing Canada in the Olympic Games in wrestling. By the time the 2020 Olympic Games in Tokyo will be around, St-Pierre will be 39 years of age, but an Olympic medalist would be an excellent addition on his resume as one of Canada's very best combat artists of all-time.
It will also be interesting to see if St-Pierre stays in the middleweight division of UFC or returns to the welterweight division. Or, who knows? This might just have been St-Pierre's last career fight. His previous fight was four years ago when he beat American Johny Hendricks. If that is the case, St-Pierre will go out as a champion.
This past fall, I had the privilege of writing George St-Pierre's biography for the Canadian Encyclopedia. For the full biography, please click here.