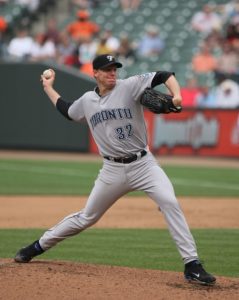 Former Toronto Blue Jays starting pitcher Roy Halladay passed away at the age of 40 on Tuesday. A right handed pitcher from Denver, Colorado, Halladay died in a plane crash off the coast of Florida.
Halladay was with with the Blue Jays from 1998 to 2009. His finest regular season came in 2003 when he led Major League Baseball in wins with 23 and became the third Blue Jays pitcher in the history of the franchise to win a Cy Young Award. Pat Hentgen became the first in 1996 and was followed by Roger Clemens who won back-to-back years in 1997 and 1998.
Halladay's greatest moment on the mound however came with the Philadelphia Phillies. In game one of the 2010 National League Divisional Series, Halladay became only the second pitcher in Major League Baseball history to throw a postseason no-hitter. Halladay threw 104 pitches in blanking the Cincinnati Reds 4-0. During the historic performance, Halladay had eight strikeouts and a walk. It was actually the second no-hitter he threw in 2010, as earlier in the season, Halladay threw a perfect game in a 1-0 Phillies win over the Florida Marlins.
Halladay should be remembered for the high number of complete games he pitched. He pitched 49 complete games with the Blue Jays and 67 complete games overall. Only four years after his retirement, you simply do not see pitchers throw complete games with the same regularity anymore.