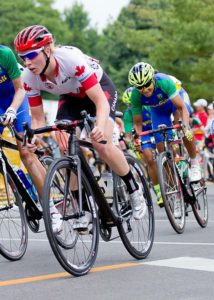 Team Canada won a silver medal in the women's track cycling team pursuit on Friday at a World Cup in Pruszkow, Poland. The Canadian team was comprised of Kinley Gibson of Edmonton, Alberta, Allison Beveridge of Calgary, Alberta, Ariane Bonhomme of Gatineau, Quebec and Annie Foreman-Mackey of Kingston, Ontario.
Gibson, Beveridge, Bonhomme and Foreman-Mackey posted a second place time of 4:23.993. Italy won the gold medal with a time of 4:21.965. Great Britain won the bronze medal after beating Germany in the third place race.
This silver medal is huge for Canada in their preparation for the 2020 Olympic Games in Tokyo. This is a rather young squad as Gibson and Bonhomme are both 22 years of age. Beveridge, who is 24, won a bronze medal for Canada in the women's team pursuit at the 2016 Olympic Games in Rio de Janeiro.
The women's team pursuit in track cycling has been at the last two Olympic Games, and each time Canada has come away with a medal. At the 2012 Olympic Games in London, Tara Whitten of Edmonton, Alberta, Gillian Carleton of Scarborough, Ontario and Jasmin Glaesser of Vancouver, British Columbia won bronze. Then last year at the Olympics in Brazil, Beveridge and Glaesser teamed up with Kirsti Lay of Medicine Hat, Alberta, Georgia Simmerling of Vancouver, British Columbia and Laura Brown of Calgary, Alberta to win Olympic bronze again.
Simmerling's focus over the next few months is an interesting one. She is trying to make the women's ski cross team at the 2018 Olympic Winter Games in Pyeongchang. With the possible absence of Canadian Olympic gold medalist Marielle Thompson, who is out with a ruptured ACL, Simmerling might see her chances of making the Canadian Olympic team improve.