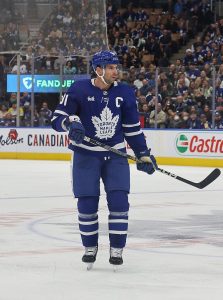 Toronto Maple Leafs captain John Tavares of Mississauga, Ontario scored his third career playoff overtime winner on Saturday. It was a clutch goal indeed, as it helped the Maple Leafs defeat the Tampa Bay Lightning 2-1 in the game and four games to two in the best out of seven first round Eastern Conference playoff series. It was the first time since 2004 that the Maple Leafs won a playoff series in the Stanley Cup Playoffs.
Tavares's goal on Saturday was at 4:36 of the extra period from Morgan Rielly of Vancouver, British Columbia and Matthew Knies. The Maple Leafs will now either play the Boston Bruins or the Florida Panthers in the Eastern Conference semifinals. The Bruins and Panthers have their seventh game of their best out of seven series on Sunday. If the Panthers were to beat the Bruins, then that means the Maple Leafs have home ice advantage.
Tavares scored his previous two Stanley Cup Playoff overtime winners with the New York Islanders. The first goal came at the 15 second mark of the first overtime period from Nikolai Kulemin and Nick Leddy in a 2-1 Islanders win over the Washington Capitals. It came on April 19, 2015 in game three of the first round of the playoffs. Tavares scored his second playoff overtime winner at 10:41 of the second overtime period from Alan Quine of Belleville, Ontario and Kyle Okposo of St. Paul, Minnesota in a 2-1 Islanders win over the Florida Panthers. It came on April 24, 2016 in game six of the first round of the playoffs.
In the 2023 postseason, Tavares has four goals and three assists for seven points in six games. He was a +1 with four penalty minutes, one power-play goal, one game-winning goal, 20 shots on goal, 37 faceoff wins, two blocked shots, 13 hits, two takeaways, and three giveaways.