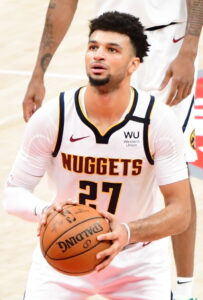 The Denver Nuggets are leading the Miami Heat three games to one after a 108-95 win in game four of the 2023 NBA Finals in south Florida on Friday. Once again, Nuggets point guard Jamal Murray of Kitchener, Ontario had a notable postseason performance.
Murray had 12 assists, and in the process became the first player in National Basketball Association history to have a minimum of 10 assists in his first four games in the NBA Finals. He previously had 10 assists each in a 104-93 Nuggets win over the Heat in game one on June 1, in a 111-108 Nuggets loss to the Heat in game two on June 3, and in a 109-94 Nuggets win over the Heat in game three on June 7.
On Friday, Murray had a double-double, as he scored 15 points. He played more of a leadership role in game four because Nikola Jokic missed some time as he was sitting on the bench due to five fouls he had committed.
The Nuggets can close out the Heat on Monday night with a game five victory. Murray is looking to be the ninth Canadian in NBA Finals history to win the Larry O'Brien Trophy. Andrew Wiggins of Toronto, Ontario won the NBA Finals last year with the Golden State Warriors.