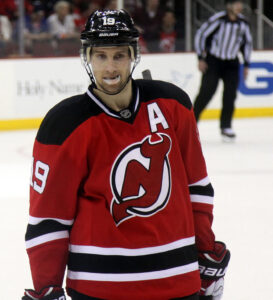 In a blockbuster National Hockey League trade on Wednesday, the New Jersey Devils traded center Travis Zajac of Winnipeg, Manitoba, and right-winger Kyle Palmieri to the New York Islanders for left-wing prospect A.J. Greer of Joliette, Quebec, forward prospect Mason Jobst, a first-round draft pick in the 2021 NHL Entry Draft and a conditional fourth-round draft pick in the 2022 NHL Draft.
According to Greg Wyshynski of ESPN, the conditional fourth-round draft pick depends on whether the Islanders reach the 2021 Stanley Cup Final or not. If they do, the Islanders will have the choice of giving the Devils a third-round draft pick in 2022 or 2023 instead of a fourth-round draft pick.
Zajac has spent his entire 15 NHL seasons with the Devils since 2006-07. In 2020-21, he had seven goals and 11 assists for 18 points. Zajac also had six penalty minutes, two game-winning goals, one power-play point, 34 shots on goal, 254 faceoff wins, 15 blocked shots, 41 hits, 20 takeaways, and nine giveaways. In 1024 games with the Devils, Zajac has 202 goals and 348 assists for 550 points.
Palmeiri is joining his third NHL team as he also played for the Anaheim Ducks. In 34 games this season he has eight goals and nine assists for 17 points.
Greer has NHL experience. He spent three seasons with the Colorado Avalanche from 2016 to 2019, before playing this season with the Colorado Eagles and the Bridgeport Sound Tigers of the American Hockey League. Jobst was also with the Tigers.