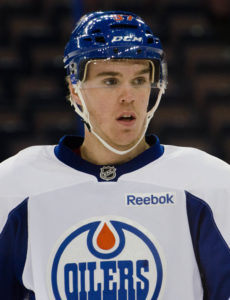 Even though 16 National Hockey League teams are currently in the process of trying to qualify for the 2020 Stanley Cup Playoffs, technically the games played within the eight Stanley Cup playoff qualifying series are playing postseason games. On Monday, Connor McDavid of Richmond Hill, Ontario showed the hockey world just how much of an electrifying player he can possibly be when the Edmonton Oilers season was on the line.
McDavid recorded his first career playoff hat trick as the Edmonton Oilers defeated the Chicago Blackhawks 6-3 at Rogers Place in Edmonton. With the win, the Oilers tied their best out of five NHL qualifying series at one game apiece.
It would not take McDavid long to get on the scoreboard. Nineteen seconds in fact. He scored from Darnell Nurse of Hamilton, Ontario, and Ryan Nugent-Hopkins of Burnaby, British Columbia. McDavid then scored again at the 4:05 mark of the first period from Nugent-Hopkins to put the Oilers up 2-0, and then scored the game winning goal at 17:10 of the second period from Nugent-Hopkins and Alex Chiasson of Montreal, Quebec to make the score 4-3 at the time. Chiasson also ended up with a multi-point game as he scored an unassisted insurance goal at 8:03 of the third period to close out the scoring.
With the three goals by McDavid, and the three assists by Nugent-Hopkins, McDavid and Nugent-Hopkins currently lead all players in playoff scoring with six. McDavid also leads all players with four goals, and Nugent-Hopkins leads all players with five assists.
Meanwhile, in other action, the Winnipeg Jets defeated the Calgary Flames 3-2. That series is now tied at one game apiece.