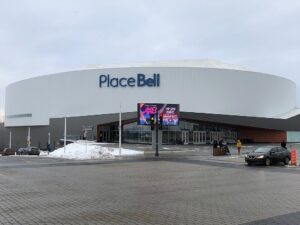 Laval will be the host city of the 2022 American Hockey League All-Star Classic according to the Canadian Press on Tuesday. Laval was initially awarded the 2021 AHL All-Star Classic, but that has been cancelled because of coronavirus. The event was initially to take place at Place Bell, the home of the Laval Rocket, on January 31 and February 1, 2021.
During the festivities, is normally a skills competition, followed by an All-Star Challenge. In the challenge, players represent their respective divisions. Each division plays the other three divisions in six mini-games of 10 minutes each. The top two teams from the mini-round robin then play a six-minute championship final. Last year in Ontario, California, the Atlantic Division beat the Central Division 3-1 in the final.
This will be the sixth time that the American Hockey League will have had its All-Star Game in Canada. The previous years were in 1997 in Saint John, New Brunswick, in 2002 and 2014 in St. John's, Newfoundland, in 2006 in Winnipeg, Manitoba, and in 2007 in Toronto, Ontario.
The Rocket are the top affiliate of the Montreal Canadiens of the National Hockey League. Montreal was supposed to host the 2020 National Hockey League Entry Draft, however those plans were scrapped because of coronavirus, and the draft will be held virtually in early October instead.