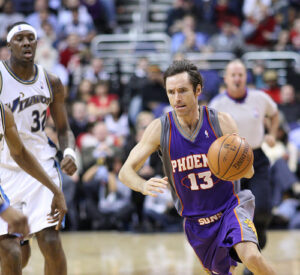 When the 2020-21 National Basketball Association season started on Tuesday, basketball hall of famer Steve Nash of Victoria, British Columbia found himself in a new role. He was no longer a player for the Phoenix Suns, Dallas Mavericks, or the Los Angeles Lakers, or as a consultant for the Golden State Warriors. Nash began his NBA coaching career as the head coach of the Brooklyn Nets.
On Tuesday, Nash received his first head coaching win as the Nets defeated the Warriors with ease by a score of 125-99. Kevin Durant of Washington, District of Columbia, a two-time NBA Finals Most Valuable Player with Golden State in 2017 and 2018, also made his debut with Brooklyn and scored 22 points. Durant missed all of the 2019-20 season with a torn Achilles tendon. Nets point guard Kyrie Irving of Melbourne, Australia, led the Nets with 26 points, and center DeAndre Jordan led the Nets with 11 rebounds.
Nash needs to be praised for getting the Nets off to a fast start. Only four minutes and 40 seconds into the game, the Nets already had an 18-8 lead over the Warriors thanks to a dunk by Durant. Then that lead grew to 40-19 after a field goal by Cavis LaVert, a bright spot on the Nets team in 2019-20.
Nash and the Nets will also be working Christmas Day. On Friday, Brooklyn plays the Boston Celtics in the afternoon.