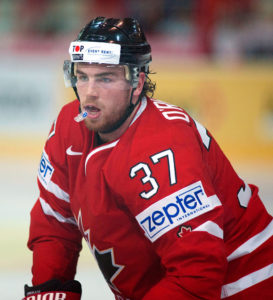 According to Rogers Sportsnet on Wednesday, Ryan O'Reilly of Clinton, Ontario was named the 23rd captain in St. Louis Blues history. The Blues were in need of a captain when Canadian Olympic gold medalist Alex Pietrangelo of King City, Ontario signed in the offseason with the Vegas Golden Knights.
O'Reilly, who is 29 years old, has played the last two seasons with the Blues. In 2019 when the Blues won the Stanley Cup, he not only won the Conn Smythe Trophy, but the Selke Trophy as well.
O'Reilly played all 71 games for the Blues in the 2019-20 regular season. He had 12 goals and 49 assists for 61 points, and was a +11. Another statistic that is notable is that O'Reilly only had 10 penalty minutes in 71 games.
Of the 22 prior Blues captains, 21 were Canadian born. In addition to Pietrangelo, the others were Al Arbour of Sudbury, Ontario, Gary Unger of Calgary, Alberta, Frank St. Marseille of Levack, Ontario, Bob Plager and Barclay Plager of Kirkland Lake, Ontario, Red Berenson and Garth Butcher of Regina, Saskatchewan, Jimmy Roberts of Toronto, Ontario, Barry Gibbs of Lloydminster, Saskatchewan, Brian Sutter of Viking, Alberta, Bernie Federko of Foam Lake, Saskatchewan, Brett Hull and Rick Meagher of Belleville, Ontario, Scott Stevens of Kitchener, Ontario, Wayne Gretzky of Brantford, Ontario, Shayne Corson of Barrie, Ontario, Chris Pronger of Dryden, Ontario, Al MacInnis of Inverness, Nova Scotia, Dallas Drake of Trail, British Columbia, and Eric Brewer of Vernon, British Columbia.