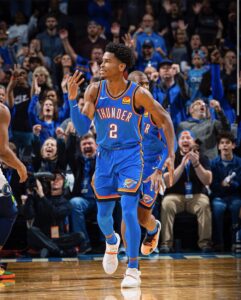 With the National Basketball Association beginning on Tuesday night, it also meant that fantasy basketball commenced for another season. Among the players worth considering this year in fantasy basketball pools are four Canadian shooting guards–Shai Gilgeous-Alexander of the Oklahoma City Thunder, Andrew Wiggins of the Golden State Warriors, Jamal Murray of the Denver Nuggets, and Dillon Brooks of the Memphis Grizzlies. Gilgeous-Alexander and Wiggins are both from Toronto, Ontario. Murray is from Kitchener, Ontario, and Brooks is from Mississauga, Ontario.
On the top of the list among the four is Gilgeous-Alexander of Toronto, Ontario, who is 11th overall among shooting guards this year. In 2019-20, he had 1331 points, 412 rebounds, 232 assists, 79 steals, and 87 three-points made, with 134 turnovers.
In 2020-21, Gilgeous-Alexander is expected to make the switch to point guard, as the team traded Chris Paul to the Phoenix Suns in the offseason. It will be interesting to see how the change in position will impact Gilgeous-Alexander from a fantasy perspective. At first glance, one would expect that Gilgeous-Alexander's assist totals should increase, but with him having the basketball more, his turnover totals should increase as well.
Another change the Thunder made in the offseason pertains to their coaching staff. Billy Donovan left OKC for the Chicago Bulls, and Mark Daigneault is their new head coach.
The Thunder were a surprise in 2019-20. Not many expected Oklahoma City to make the playoffs, but they did so comfortably with a record of 44 wins and 28 losses. In the playoffs, they pushed the more talented Houston Rockets to seven games before losing the Western Conference quarterfinal four games to three.