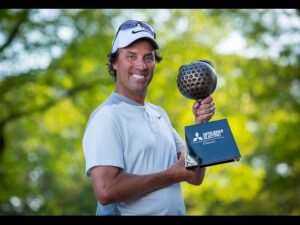 After 18 holes of the 2021 United States Senior Open from the Omaha Country Club in Nebraska, Stephen Ames of Vancouver, British Columbia is the co-leader at -5. Ames is tied with Billy Andrade of Bristol, Rhode Island.
In his 18 holes of action, Ames birdied the second, sixth, ninth, 10th, 11th, 14th, and 15th holes. He also bogeyed the fifth and 17th holes.
There are five other golfers at this time in contention. American Wes Short Jr. of Austin, Texas is one shot back at -4 and in third place. Sweden's Robert Karlsson and Germany's Alex Cejka are two strokes back at -3, while Spain's Miguel Angel Jimenez and American Fran Quinn of Worcester, Massachusetts are three strokes back at -2.
No Canadian has ever won a major before on the Champions Tour in men's golf. This is the fourth of five major events in men's senior golf in 2021. Cejka won the first two majors at the Regions Tradition in Birmingham, Alabama on May 9, and the KitchenAid Senior PGA Championship in Tulsa, Oklahoma on May 30. Meanwhile, American Steve Stricker of Edgerton, Wisconsin won the Bridgestone Senior Players Championship on June 27 from Akron, Ohio.
The United States Senior Open is one of two major titles for the men this month. The 2021 British Senior Open will take place in Sunningdale, England at the end of July.
Ames has won two Champions Tour events in the past. He won the 2017 Mitsubishi Electric Classic in Atlanta, and the 2021 Principal Charity Classic in Des Moines, Iowa.