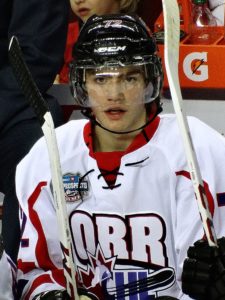 The Tampa Bay Lightning won the 2021 Stanley Cup on Wednesday. After a 1-0 win over the Montreal Canadiens, the Lightning won the best-out-of-seven-series four games to one.
A total of 11 Canadian players won the Stanley Cup with the Tampa Bay Lightning in 2021. They were Anthony Cirelli of Woodbridge, Ontario; Callan Foote of Kelowna, British Columbia; Barclay Goodrow of Toronto, Ontario; Yanni Gourde of Saint-Narcisse-de-Beaurivage, Quebec; Mathieu Joseph of Laval, Quebec; Alex Killorn of Halifax, Nova Scotia; Curtis McElhinney of London, Ontario; Brayden Point of Calgary, Alberta; David Savard of Saint-Hyacinthe, Quebec; Luke Schenn of Saskatoon, Saskatchewan; and Steven Stamkos of Markham, Ontario.
The leader for the Lightning in goals in the Stanley Cup Playoffs was Brayden Point, who had 14. In fact, Point led all players in goals in the playoffs, and was second in playoff points with 23. Stamkos had the third most points in the playoffs (18), while Killorn was fifth with 17 points despite being out of the Stanley Cup Final with a broken leg. Cirelli meanwhile had 12 postseason points, Gourde had seven postseason points, Goodrow had six postseason points, Savard had five postseason points, and Joseph had two postseason points.
McElhinney won a Stanley Cup as the backup goaltender to Alexei Vasilevskiy. Schenn and Foote won a Stanley Cup because they played in half of the team's regular season games.