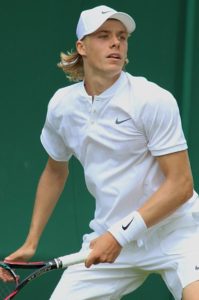 It was a memorable day in Canadian tennis on Thursday as the current top two active Canadian tennis players faced each other for the first time. The winner was the 19 year-old Denis Shapovalov of Richmond Hill, Ontario, who defeated Milos Raonic of Thornhill, Ontario, 6-4, 6-4 in the third round of the 2018 Madrid Open in Spain. 
For Shapovalov, it was only his third career win on the ATP Tour on a clay court. His other two wins also came in Madrid as he beat Tennys Sandgren of the United States 6-1, 6-4 in the first round on Sunday and Benoit Paire of France 7-6, 4-6, 6-4 in the second round on Tuesday.
In Shapovalov's third round win over Raonic on Thursday, he did very well in returning Raonic's second serve. He won 57% of the points, winning eight of the 14 points.
Shapovalov will now face Kyle Edmund of Great Britain in the quarterfinals on Friday. Unlike Raonic who Shapovalov had no history against prior to Thursday, he has plenty of history against Edmund. Head-to-head Shapovalov is 2-2 against Edmund with their famous match coming in the first round of the 2017 Davis Cup in Ottawa. Shapovalov lost in the third set by disqualification when he smashed a tennis ball that accidentally hit umpire Arnaud Gabas of France in the eye. Gabas was out for almost two months and needed eye surgery.