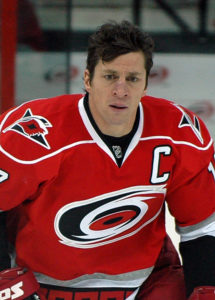 Rod Brind'Amour of Ottawa, Ontario was named the head coach of the Carolina Hurricanes on Tuesday. Brind'Amour replaces Bill Peters of Three Hills, Alberta, who resigned with the Hurricanes on April 20 to coach the Calgary Flames.
Brind'Amour has spent the last seven seasons as the Hurricanes assistant coach, working under the tutelage of Paul Maurice of Sault Ste. Marie, Ontario, Kirk Muller of Kingston, Ontario and Peters. He has also spent the last 17 years with the Hurricanes as he played for Carolina the 10 years before that.
From 1999 to 2010, Brind'Amour played 694 games with Carolina and had 174 goals and 299 assists for 473 points. In 2006 Brind'Amour won the Stanley Cup with Carolina and then in back-to back seasons in 2006 and 2007, Brind'Amour won the Selke Trophy which is presented to the best defensive forward in the National Hockey League. He also played two seasons with the St. Louis Blues, nine seasons with the Philadelphia Flyers and won a gold medal with Canada at the 1994 World Men's Hockey Championships in Italy.
The Hurricanes also named Don Waddell as general manager. Waddell was the general manager of the Atlanta Thrashers for 10 seasons from 1999 to 2010, the same 10 seasons Brind'Amour played for the Hurricanes. Waddell takes over the managerial duties from Ron Francis of Sault Ste. Marie, Ontario.
Francis could be considered the most legendary person in the history of the Hartford Whalers/Carolina Hurricanes franchise. A three-time Lady Byng winner and 1995 Selke Trophy winner, Francis is the all-time Whalers/Hurricanes leader in goals, assists and points. However he could not translate the same success in a managerial role as he could as the Whalers/Hurricanes on-ice captain.