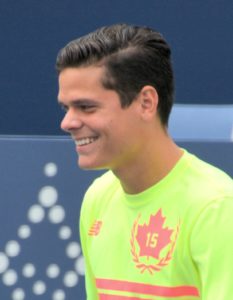 Milos Raonic of Thornhill, Ontario has advanced to the fourth round of the 2019 Australian Open.On Friday (Saturday in Melbourne), Raonic, the 16th seed, defeated Pierre-Hugues Herbert in straight sets 6-4, 6-4, 7-6.
In the match, Raonic continued to deliver a high number of aces. He had 23 in his win over Herbert and has 91 now in the tournament. Raonic had 30 aces in his first round win over Nick Kyrgios of Australia and 38 aces in his second round win over Stanislas Wawrinka of Switzerland.
Raonic broke Herbert on three occasions and had 51 winners compared to only 12 unforced errors. Raonic is extremely successful when he keeps unforced errors to a minimum, because there is a strong chance that the winners and aces will be there.
Raonic will face a tough test in the fourth round as his opponent is the fourth seed, Alexander Zverev of Germany. Zverev lost to Raonic the last time they met as Raonic won in the fourth round of 2017 Wimbledon, 4-6, 7-5, 4-6, 7-5, 6-1. If this was a three set match, Zverev would be a favourite as he is very dangerous in short three set matches. Zverev beat Raonic easily in the quarterfinals of the 2017 Italian Open 7-6, 6-1 and has won 11 career tournaments (all in events where matches are best of three). However, with the Australian Open being best of five, Raonic has a legitimate chance. Zverev has only advanced to one quarterfinal in his major career (the 2018 French Open) and has a career record of four wins and three losses at the Australian Open. Raonic's career record at the Australian Open is 23 wins and eight losses.