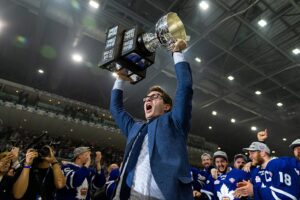 According to Rogers Sportsnet on Thursday, the Pittsburgh Penguins have named Kyle Dubas of Sault Ste. Marie, Ontario as their new president of hockey operations. Dubas takes over from Brian Burke who was relieved of his duties on April 14.
Dubas was the general manager of the Toronto Maple Leafs from 2018 to 2023. During that period, Toronto had a record of 221 wins, 109 regulation losses and 42 losses in extra time. This past season, the Maple Leafs won their first playoff series since 2004. Toronto beat the Tampa Bay Lightning in six games in the Eastern Conference Final.
The Penguins are coming off a very disappointing season. They missed the playoffs for the first time since 2006. In addition to firing Burke, Pittsburgh also fired general manager Ron Hextall of Brandon, Manitoba, and assistant general manager Chris Pryor.
Now it appears one of the first assignments for Dubas will be to hire a general manager. Until he finds a replacement for Hextall, Dubas will be the interim general manager in Pittsburgh on an interim basis.
It will now be interesting to see if the Penguins hire a general manager before the draft. One favourite to be the new Penguins general manager is Jason Botterill of Edmonton, Alberta. Botterill was previously the interim general manager of the Penguins, general manager of the Buffalo Sabres, and assistant general manager of the Seattle Kraken this past year. Jason Botterill is also the brother of Canadian Olympic gold medalist Jennifer Botterill. She won the gold medal for Canada in women's hockey at the 2002 Olympic Winter Games in Salt Lake City, the 2006 Olympic Winter Games in Turin, and the 2010 Olympic Winter Games in Vancouver.