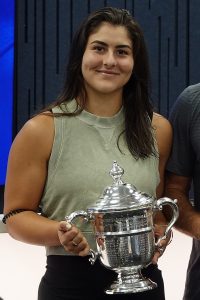 Bianca Andreescu of Mississauga, Ontario, and Denis Shapovalov of Toronto, Ontario are each in the third round of the 2023 French Open. It is the first time that Andreescu or Shapovalov have made the round of 32 in the only major of the year on clay.
In the second round on Thursday, Andreescu beat Emma Navarro of the United States 6-1, 6-4. Andreescu broke Navarro five times in the match, and won 12 of 14 points at the net.
Shapovalov, the 26th seed, beat Matteo Arnaldi of Italy, 6-2, 3-6, 6-3, 6-3 in the second round on Wednesday. Like Andreescu, Shapovalov broke his opponent five times in the match. The serve was a factor as Arnaldi had eight double faults, compared to five for Shapovalov. It should be noted that Shapovalov had 15 double faults in his first round win over Brandon Nakashima of the United States.
In the third round, Shapovalov will be the heavy underdog against world number one Carlos Alcaraz of Spain. Andreescu meanwhile will face Lesia Tsurenko of Ukraine. This will be their third meeting head-to-head. In the two prior matches, Andreescu had to withdraw during the match. The first time came in Fed Cup action during 2018, and the second time was the semifinals of the 2023 Thailand Open. In the Fed Cup loss, Andreescu was suffering from severe cramps. In the loss in Thailand, Andreescu had a shoulder injury.