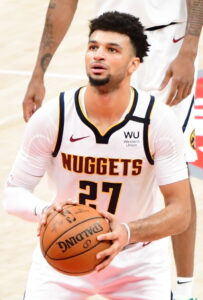 Denver Nuggets guard Jamal Murray of Kitchener, Ontario tied the Canadian record for most points in a NBA Finals game on Thursday. He had 26 points in a 104-93 Nuggets win over the Miami Heat in game one of the NBA Finals at the Ball Arena in Denver, Colorado.
Murray made 11 of 22 field goals, two of seven three point attempts, and both free throws. He also had 10 assists for the double double, one steal and was a +9.
Andrew Wiggins of Toronto, Ontario is the player Murray is tied with. He also had 26 points in a 104-94 Golden State Warriors win over the Boston Celtics in game five of the 2022 NBA Finals. The Warriors won game six to win their seventh NBA Finals championship in franchise history.
Murray is trying to lead the Nuggets to their first NBA Finals in franchise history. So far in the 2023 NBA postseason, he is averaging 27.6 points per game.
Murray also holds the record for the most points by a Canadian in a NBA playoff game. He accomplished the feat twice against the Utah Jazz in the Orlando bubble three years ago. Murray had 50 points in a 129-127 Nuggets loss to the Jazz on August 23, 2020, and then 50 points again in a a 119-107 Nuggets win over the Jazz on August 30, 2020.