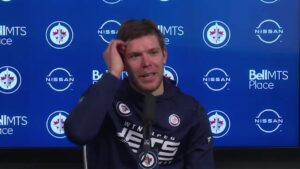 Paul Stastny of Quebec City, Quebec scored the game winning goal in overtime for the Winnipeg Jets in game two of their North Division semifinal series against the Edmonton Oilers on Friday. Stastny scored in fact the only goal of the game past Oilers goaltender Mike Smith of Kingston, Ontario from an awkward angle in a 1-0 Jets win at 4:06 of the extra period from Andrew Copp and Tucker Poolman. With the win, the Jets took a two games to none series lead in the North Division semifinals.
Stastny scored his second career Stanley Cup Playoff overtime winner. The first overtime winner in the postseason for Stastny came in game one of the first round of the 2014 Stanley Cup Playoffs, a 5-4 Avalanche win over the Minnesota Wild. At the time, Stastny scored from two Canadians–Nathan MacKinnon of Halifax, Nova Scotia, and Tyson Barrie of Victoria, British Columbia.
Meanwhile, it was a brilliant night for Jets goaltender Connor Hellebuyck. The 2020 Vezina Trophy winner made 38 saves for his third career Stanley Cup Playoff shutout. Hellebuyck's first two shutouts came with the Jets in the 2018 Stanley Cup Playoffs.
The Jets continue to be one of the biggest stories of the 2021 Stanley Cup Playoffs. They are one of two teams in the playoffs to win the first two games of their series on the road. The other is the Tampa Bay Lightning who won both of their games in Sunrise against the Florida Panthers, before splitting their next two games at home.