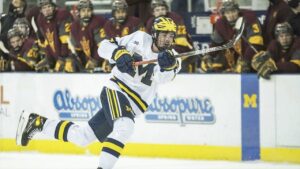 The 2021 National Hockey League Draft got underway on Friday remotely. Owen Power of Mississauga, Ontario, a defenseman from the University of Michigan, was selected first overall by the Buffalo Sabres. Power, who also won a gold medal for Canada at the 2021 World Men's Hockey Championship in Latvia, had 16 points (three goals and 13 assists) in 26 games last year with the University of Michigan.
Power was one of 18 Canadians selected in the first round of the 2021 NHL Entry Draft. The next Canadian picked was center Mason McTavish (son of former Calgary Flame Dale McTavish of Eganville, Ontario) who was picked third overall by the Anaheim Ducks. McTavish had nine goals and two assists for 11 points with Olten in the Swiss League after playing the 2019-20 season with the Peterborough Petes of the Ontario Hockey League.
At number five, the Columbus Blue Jackets picked center Kent Johnson of Port Moody, British Columbia. Johnson had nine goals and 18 assists for 27 points with Michigan last year. Other first-round picks were defenseman Brandt Clarke of Nepean, Ontario (eighth overall by the Los Angeles Kings), Edmonton Oil Kings right-winger Dylan Guenther of Edmonton, Alberta (ninth overall by the Vancouver Canucks), center Cole Sillinger (12th overall by the Columbus Blue Jackets), Oil Kings goaltender Sebastian Cossa of Fort McMurray, Alberta (15th overall by the Detroit Red Wings), left-winger Brennan Othmann of Pickering, Ontario (16th overall by the New York Rangers), Rimouski Oceanic center Zachary Bolduc of Trois-Rivieres, Quebec (17th overall by the St. Louis Blues), Shawinigan Cataractes center Xavier Bourgault of L'Islet, Quebec (22nd overall by the Edmonton Oilers), Windsor Spitfires center Wyatt Johnson of Leaside, Ontario (23rd overall by the Dallas Stars), Brooks Bandits defenseman Corson Ceulemans of Beaumont, Alberta (25th overall by the Columbus Blue Jackets), Winnipeg Ice defenseman Carson Lambos of Winnipeg, Manitoba (26th overall by the Minnesota Wild), Halifax Mooseheads left-winger Zachary L'Hereux of Mercier, Quebec (27th overall by the Nashville Predators), right-winger Chase Stillman of Sudbury, Ontario (29th overall by the New Jersey Devils), Gatineau Olympiques center Zachary Dean of Grande Prairie, Alberta (30th overall by the Vegas Golden Knights), defenseman Logan Mailloux of Belle River, Ontario (31st overall by the Montreal Canadiens), and Prince Albert Raiders defenseman Nolan Allan of Davidson, Saskatchewan (32nd overall by the Chicago Blackhawks).