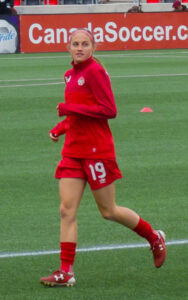 Team Canada has recorded their first win at the 2020 Olympic Women's Soccer Tournament. On Saturday, Janine Beckie of Regina, Saskatchewan was the Canadian star as she scored twice in a 2-1 win over Chile.
In fact, Beckie could have recorded a hat trick. However, she hit the post on a penalty kick, and only settled for a pair of goals.  Beckie's goals came in the 39th and 47th minutes. One goal came right before half-time, and the game-winning goal came right after it.
Heading into the game, I like many thought in order for Team Canada to go deep into the tournament, they needed to find someone to score other than Christine Sinclair. Beckie delivered even though she missed in a penalty attempt for the second consecutive major tournament. Beckie previously had a penalty kick stopped by Swedish goalkeeper Hedvig Lindahl in a 1-0 Sweden win over Canada in the round of 16 of the 2019 FIFA Women's World Cup in France.
It was clear that Beckie was chosen over Sinclair in this particular instance to take the penalty at the Olympic Games because Sinclair seemed to injure her Achilles tendon, which led to the Beckie penalty kick. Luckily for Canada, Sinclair did not seem to injure her Achilles too badly, however.
Canada now improves to one win and one tie in the tournament. They are two points back of Great Britain, who beat Japan 1-0. All three of Great Britain's goals so far have been scored by Ellen White. Canada next plays Great Britain in Group E action on Tuesday at 5 a.m.