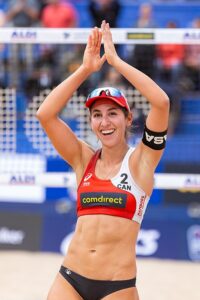 Women's beach volleyball world champions Melissa Humana-Paredes of Toronto, Ontario, and Sarah Pavan of Kitchener, Ontario, have won their opening game of the women's beach volleyball tournament at the 2020 Olympic Games in Tokyo in 2021. Humana-Paredes and Pavan defeated Katja Stam and Raisa Schoon of the Netherlands, 21-16, 21-14.
It was a strong service game for Humana-Paredes. The 28-year-old had four aces while serving. Pavan meanwhile, recorded four points off of blocks.
It was a tough opening game however for Canadians Heather Bansley and Brandie Wilkerson, as they lost a three-set match to the Chinese team of Xinyi Xia and Fan Wang 18-21, 21-15, 15-11. However, the mere fact that Bansley and Wilkerson won a set could help them later in the tournament when they try to qualify for the round of 16.
There was one significant upset in the Olympic women's beach volleyball tournament on Saturday. In Pool F action, reigning German Olympic champion and 2017 World Champion Laura Ludwig (who is now teamed up with Margareta Kozuch) lost to Nina Betschart and Tanja Huberli of Switzerland, 23-25, 22-20, 16-14, in a very tight three-set match. Meanwhile, the Czech Republic women's beach volleyball team has had to withdraw because of coronavirus reasons. According to Reuters Media on Thursday, Marketa Nausch-Slukova tested positive for the disease.