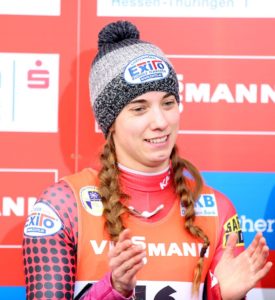 Kimberley McRae won the bronze medal in a World Cup women's luge competition at Canada Olympic Park in Calgary, Alberta on Saturday. McRae posted a third place time of 1:33.835 for her fifth World Cup individual medal.
McRae posted a time of 1:33.885. She beat Andrea Voetter of Italy by 0.68 seconds to earn a podium spot. Voetter's fourth place time was 1:33.953. Germany held the gold and silver positions. Julia Taubitz placed first with a time of 1:33.408 and Natalie Geisenberger won the silver medal with a time of 1:33.512.
McRae previously won silver medals in Winterberg, Germany and Lake Placid, New York during the 2016-17 World Cup Luge seasons and a silver medal in Sigulda, Latvia and a bronze medal in Lake Placid during the 2017-18 World Cup Luge seasons. McRae's greatest luge accomplishment was winning the bronze medal at the 2017 World Luge Championships in Igls, Austria.
McRae is not competing a full luge season this year as she continues to work on her nursing degree at Mount Royal University in Calgary. This was the first World Cup she had competed in this season. McRae will also compete at the World Cup in Lake Placid this weekend and the 2019 World Luge Championships in Winterberg, Germany. There also World Cups this season in Koenigssee, Germany. Sigulda, Latvia, Altenberg, Germany, Oberhof, Germany and Sochi, Russia.