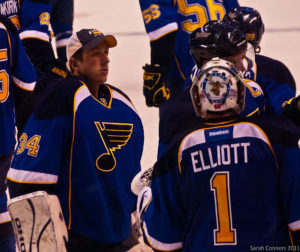 Jake Allen of Fredericton, New Brunswick delivered an impressive shutout win for the St. Louis Blues over the Winnipeg Jets on Friday. Allen made 26 saves in a 1-0 Blues win at Bell MTS Place in Winnipeg, Manitoba.
Allen made 13 saves in the first period, seven saves in the second period and six saves in the third period. It was Allen's first shutout this season and 17th of his National Hockey League career.
Even though Allen got the shutout on Friday, the 2018-19 National Hockey League regular season has been a struggle for him. Allen's goals against average is only 3.24 and his save percentage is .896. The Blues meanwhile only have 24 points and are 11 points back of the fourth place Dallas Stars in the Pacific Division. In 2017-18, the Blues missed the playoffs for the first time since 2010-11. Despite being to the Stanley Cup Finals for the first three seasons in their franchise history, they have not been to the Stanley Cup Finals since 1970 and have never won the Stanley Cup.
The Jets loss to the Blues could be considered an upset. Winnipeg, which has had excellent offense all season long, has 101 goals, the third most in the Western Conference. They are only behind the Colorado Avalanche at 108 goals and the Calgary Flames at 107 goals.   The Jets are also fourth in the Western Conference and third in the Central Division with 38 points.