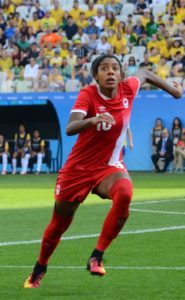 The groups are now set for the 2019 Women's World Cup of Soccer in France.In an announcement made on Saturday, Team Canada has been placed in Group E with Cameroon, New Zealand and the Netherlands.
This will be the first Women's World Cup of Soccer since Canada was the host in 2015. Canada has qualified for six of the first seven Women's World Cup of Soccer competitions with its best result a fourth at the 2003 Women's World Cup in the United States.
This will be the second time in the history of the Women's World Cup of Soccer that Canada will be facing the Netherlands and New Zealand. Ironically, Canada also faced them at the 2015 Women's World Cup. On June 11, 2015 at Commonwealth Stadium in Edmonton, Alberta, Canada tied New Zealand at zero goals apiece and on June 15 at Olympic Stadium in Montreal, Quebec. Canada tied the Netherlands at one goal apiece. Canada's lone goal scorer was Canadian Olympic bronze medalist Ashley Lawrence of Toronto, Ontario, who scored in the 10th minute and put Canada up 1-0 at the time. Lawrence won a bronze medal for Canada in women's soccer at the 2016 Olympic Games in Rio de Janeiro.
The other five groups have also been decided. Group A has France, South Korea, Norway and Nigeria. Group B has Germany, Spain, South Africa and China. Group C has Australia, Italy, Brazil and Jamaica. Group D has England, Scotland, Argentina and Japan. Group F has the defending champion United States, Thailand, Chile and Sweden.