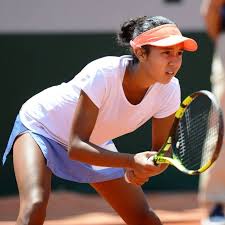 Leylah Annie Fernandez of Montreal, Quebec is the only Canadian in the second round of the 2021 French Open. After losses by seeded Canadians Bianca Andreescu of Mississauga, Ontario, and Felix Auger-Aliassime of Montreal, Fernandez finds herself as the only Canadian singles player left in the men's or women's draw.
On Sunday, Fernandez trounced Anastasia Potapova of Russia, 6-2, 6-1, in only 59 minutes according to Tennis Canada. Fernandez was able to break Potopova five times out of nine opportunities in the match. The 18-year-old Canadian also won 73% of her points on the second serve, while Potapova only won 32% of her points on her second serve. Fernandez won 35 points receiving, while Potapova won 10 points receiving.
Another key statistic came down to unforced errors. Fernandez only had six, while Potapova had 20. It was Fernandez's second career win over Potapova. Her previous win was a 6-3, 7-5 score in the quarterfinals of Acapulco in 2020. Fernandez has great memories of Roland Garros, as she won the 2019 French Open Junior Girls' Tournament, and reached the third round of the 2020 French Open. That is Fernandez's best grand slam result to date.
Now in the second round on Wednesday, Fernandez will play Madison Keys of the United States, the 23rd seed. Keys, who is from Rock Island, Illinois, reached the semifinals of the 2018 French Open where she lost to fellow American Sloane Stephens. Keys also reached the United States Open women's final in 2017, where she lost to Stephens 6-3, 6-0. This will be the first ever meeting between Fernandez and Keys.