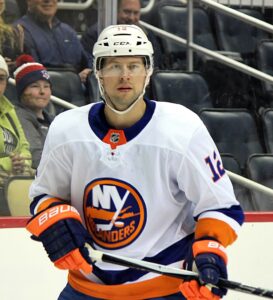 Josh Bailey of Bowmanville, Ontario scored his second career National Hockey League Stanley Cup playoff overtime winner on Monday. The New York Islanders center scored an unassisted marker at the 51-second mark of double overtime as the Islanders defeated the Pittsburgh Penguins 3-2 at the PPG Paints Arena in Pittsburgh, Pennsylvania. With the win, the Islanders lead the Penguins three games to two in the best-out-of-seven East Division semi-final series.
Bailey scored on a defensive miscue by Penguins goaltender Tristan Jarry, who shot the puck out, but right to the Islanders center. Bailey was also the only Islanders player with a multi-point game. He had an assist on the Islanders' first goal of the game from Anthony Beauvillier of Sorel-Tracy, Quebec, with 55 seconds left in the first period. The Islanders' other goal scorer was also Canadian as Jordan Eberle of Regina, Saskatchewan scored the game-tying goal at 8:50 of the third period.
Bailey's other Stanley Cup Playoff overtime winner also came with the Islanders against the Penguins. He scored from Mathieu Barzal of Coquitlam, British Columbia in game one of the 2019 Eastern Conference quarterfinals in a 4-3 Islanders win. Bailey's overtime winner was a major reason why the Islanders swept the Penguins two years ago.