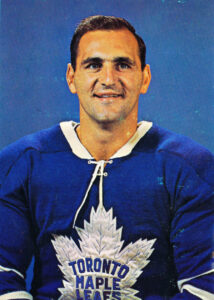 Former National Hockey League defenseman Bob Baun of Lanigan, Saskatchewan has passed away at the age of 86 according to Neil Davidson of the Canadian Press on Tuesday. He played 17 seasons in the NHL with the Toronto Maple Leafs, Oakland Seals and Detroit Red Wings. Baun was with the Maple Leafs from 1956 to 1967 and again from 1970 to 1973. He was with the Seals from 1967 to 1968, and the Red Wings from 1968 to 1971.
Baun had 37 goals and 187 assists for 224 points in 964 games. He also had 1489 penalty minutes, 15 power-play points (one power-play goal and 14 power-play assists), three game-winning goals and two shorthanded points. The power-play goal came in a 5-3 Maple Leafs win over the New York Rangers on February 28, 1960. Baun scored from Dick Duff of Kirkland, Ontario and Billy Harris of Toronto, Ontario at 17:48 of the second period.
The shorthanded assists also came in Maple Leafs wins. The first came in a 5-1 Maple Leafs win over the Rangers on November 7, 1962. Baun set up George Armstrong of Skead, Ontario at 9:43 of the third period which put the Maple Leafs up 4-1 at the time. The second came in an 8-3 Maple Leafs win over the Boston Bruins on December 4, 1966. Baun set up Bob Pulford of Newton Robinson, Ontario with 34 seconds left in the second period to put Toronto up 5-2 at the time.
However, Baun will most famously be remembered for one of his three playoff goals. He scored the game-winning goal of game six of the 1964 Stanley Cup Final on a broken leg on April 23, 1964. Baun scored from Pulford at 1:43 in overtime in a 4-3 Toronto win over the Detroit Red Wings. It was one of four Stanley Cups Baun won with Toronto as he also won in 1962, 1963 and 1967. Baun also played in five NHL All-Star Games. He was with the Maple Leafs in 1962, 1963, 1964, and 1965, and with the Seals in 1968.