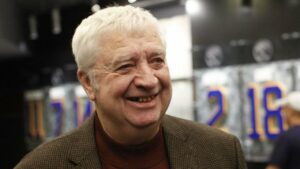 According to the Associated Press on Thursday, long time Buffalo Sabres broadcaster Rick Jeanneret of St. Catharines, Ontario passed away on Thursday at the age of 81. The cause of death was multiple organ failure. He was the voice of the Sabres for 51 years from 1971 to 2022.
Jeanneret may not have been a household name in Canadian sports broadcasting, but was in the National Hockey League. He will forever be linked to the Sabres organization, and some of his broadcasting calls are considered legendary. They include "May Day, May Day," when Brad May of Toronto, Ontario scored at 4:48 of overtime in game four of the 1993 Jack Adams Division semifinal, a 6-5 Sabres win over the Boston Bruins, and "La-la-la-la-la-la-la LaFontaine", whenever Sabres superstar Patrick LaFontaine scored.
In 2012, Jeanneret won the Foster Hewitt Memorial Award and was inducted into the Hockey Hall of Fame. Among his other accolades include being inducted into the Buffalo Sabres Hall of Fame in 2011, the Buffalo Broadcasting Hall of Fame in 2012, and the Bare Knuckle Boxing Hall of Fame in 2018. Jeanneret is one of five Canadians inducted into the Bare Knuckle Boxing Hall of Fame in Belfast, New York. He is joined by former Sabres right winger Robbie Ray of Stirling, Ontario (2009), boxer George Godfrey of Charlottetown, Prince Edward Island (2009), cruiserweight boxer Bobby Gunn of Niagara Falls, Ontario (2015), and boxer Joe Lannon of Charlottetown (2018).