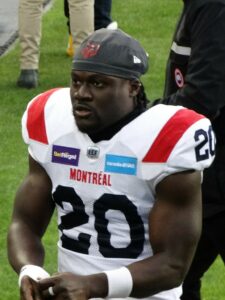 Three Canadians on winning teams recorded a touchdown in week 10 of the 2023 Canadian Football League regular season. They were Winnipeg Blue Bombers wide receiver Nic Demski of Winnipeg, Manitoba, Blue Bombers running back Brady Oliveira of Winnipeg, Manitoba and Montreal Alouettes running back Jeshrun Antwi of Calgary, Alberta.
Demski had an 18 yard touchdown catch and Oliveira had a 17 yard touchdown catch from Blue Bombers quarterback Dru Brown in a 38-29 Blue Bombers win over the Edmonton Elks on August 10. Demski had three catches for 61 receiving yards and four rushes for 34 yards. Oliveira had 14 rushes for 110 yards and two catches for 20 yards. Oliveira's touchdown closed out the scoring and gave Winnipeg a nine point lead.
On the season, Demski has 36 catches for 558 receiving yards and five touchdown catches. He also has 12 rushes for 82 rushing yards. Oliveira has 126 rushes for 703 rushing yards and three touchdown runs. He also has 19 catches for 274 receiving yards and one touchdown. With the win, the Blue Bombers improved to a record of seven wins and two losses and are tied with the British Columbia Lions for first place in the West Division.
Antwi had a 19-yard touchdown run on Friday with two minutes and 19 seconds left in the third quarter which put the Alouettes up 30-3 in a 41-12 Montreal win over the Saskatchewan Roughriders. In the game, he had seven rushes for 47 yards. On the season, Antwi has 16 rushes for 71 rushing yards and one touchdown, along with four catches for 17 yards. With the win, the Alouettes improved to a record of five wins and three losses for 10 points and are in second place in the East Division.