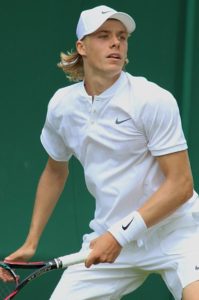 Canadian tennis stars Felix Auger-Aliassime of Montreal, Quebec, and Denis Shapovalov of Toronto, Ontario, are both heading into Wimbledon with momentum. This past week, both reached the semifinals of their respective ATP 500 events. Auger-Aliassime made the semis in Halle, Germany, and Shapovalov made the semis at the Queen's Club Championships in London.
After Auger-Aliassime made headlines around the tennis world with his first career win over the legend Roger Federer of Switzerland in the second round, he followed that up with a 6-3, 6-2 win over Marcos Giron of the United States in the quarterfinals. However, in the semis of Halle, Auger-Aliassime was beaten 6-4, 3-6, 7-6 to eventual champion Ugo Humbert of France.
Like Auger-Aliassime, Shapovalov won three matches prior to reaching the final four. He beat Aleksandar Vukic 7-6, 7-6 in two tight sets with each tiebreak going to an 8-6 score, Feliciano Lopez of Spain 6-2, 6-3 in the second round, and Frances Tiafoe of the United States 6-3, 6-4 in the quarterfinals, before being beaten by Cameron Norrie of Great Britain, 7-5, 6-3, in the semifinals.
Auger-Aliassime's best-ever Wimbledon performance came in 2019, when he reached the third round. At the time, he beat Vasek Pospisil of Vernon, British Columbia, 5-7, 6-2, 6-4, 6-3, in the first round before beating Corentin Moutet of France 6-3, 4-6, 6-4, 6-2 in the second round. Then in the third round, Auger-Aliassime lost in straight sets to Humbert.
Shapovalov only has one career win at Wimbledon. That was over Jeremy Chardy of France in the first round in 2018. Expectations will be high for Shapovalov and Auger-Aliassime to reach the second week of Wimbledon, as they are both ranked in the top 25 in the world. Shapovalov is 14th and Auger-Aliassime is 21st. Both can build on their confidence from Halle and the Queen's Club.