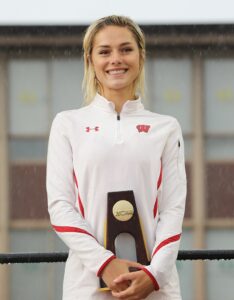 Georgia Ellenwood of Langley, British Columbia came through with one of the biggest victories of her career on Sunday. Ellenwood won the Stadtwerke Ratingen Mehrkampf-Meeting women's heptathlon competition in Ratingen, Germany, and in the process made the Canadian Olympic team.
Ellenwood posted a gold medal-winning score of 6314 points. According to the Wisconsin State Journal, Ellenwood had a personal best javelin throw of 159 feet and four inches, and a personal best 800 meter run of two minutes, 11.45 seconds. Odile Ahouanwanou of Benin won the silver medal with a score of 6274 points for a Benin national record. Verena Mayr of Austria won the bronze medal with a score of 6254 points. Ellenwood reached a podium spot by 83 points over Vanessa Grimm of Germany, who was in fourth place with a score of 6231 points.
Ellenwood needed to reach the 6300 point mark to qualify for the 2020 Olympic Games in Tokyo in 2021. By her achievement in Germany, she accomplished that goal.
Kai Kazmirek of Germany meanwhile won the men's decathlon competition in Ratingen. At the 2020 Olympic Games in Tokyo, Kazmirek will be contending with Canadian Damian Warner of London, Ontario for a medal. Kazmirek's major accomplishment to date was winning the bronze medal in the decathlon at the 2017 World Athletics Championships in London, England. This was an event where Warner finished fifth.