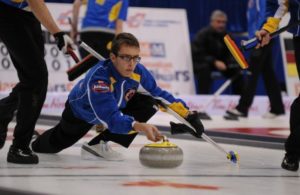 It has been quite the end of the curling season for Brendan Bottcher of Edmonton, Alberta. On Sunday, Bottcher won his third straight Grand Slam of Curling event in the 2018-19 World Curling Tour season when he beat Kevin Koe of Calgary, Alberta 6-5 in nine ends in the final of the 2019 Humpty's Champions Cup from Merlis Belsher Place in Saskatoon, Saskatchewan.
Bottcher went through the tournament undefeated. In Pool C action, he had a record of four wins and zero losses. His team opened the Champion's Cup with a 9-8 win over Matt Dunstone of Regina, Saskatchewan on Wednesday. That was followed by a 6-5 win over Tyler Tardi of Langley, British Columbia and a 9-5 win over Bruce Mouat of Scotland on Thursday and a 7-2 win over Reid Carruthers/Mike McEwen of Winnipeg, Manitoba on Friday. Bottcher then beat Canadian Olympic gold medalist Brad Jacobs of Sault Ste. Marie, Ontario 4-1 in the quarterfinals and Mouat 7-2 in the semifinals.
Bottcher's two other Grand Slam of Curling tournament wins in 2019 came at the 2019 Canadian Open in North Battleford, Saskatchewan on January 13 and the 2019 Players' Championship in Toronto, Ontario. In North Battleford, Bottcher beat John Epping of Peterborough, Ontario 6-3 in the final and at the Players' Championship, Bottcher beat Koe 6-1 in the final. The other grand slam winners on the World Curling Tour this year were Canadian Olympic gold medalist Brad Gushue of St. John's, Newfoundland (Princess Auto Elite 10 in Chatham, Ontario on September 30), Epping (Masters of Curling in Truro, Nova Scotia on October 28), Jacobs (Tour Challenge in Thunder Bay, Ontario on November 11) and Ross Paterson of Scotland (Boost National in Conception Bay, Newfoundland on December 16). Jacobs won a gold medal for Canada at the 2014 Olympic Winter Games in Sochi and Gushue won a gold medal for Canada at the 2006 Olympic Winter Games in Turin.