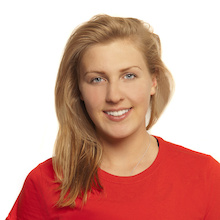 Joanna Brown of Carp, Ontario won a bronze medal at a World Series triathlon event in Hamilton, Bermuda on Saturday. Brown becomes the third Canadian woman all-time to win a medal in a World Series triathlon competition. She follows Paula Findlay of Edmonton, Alberta and Kirsten Sweetland of Nanaimo, British Columbia.
Brown posted an overall time of two hours, two minutes and five seconds. Katie Zaferes of the United States won the gold medal with a time of one hour, 59 minutes and 52 seconds. Jessica Learmonth of Great Britain won the silver medal with a time of two hours, one minute and 33 seconds. Brown reached the podium by nine seconds over Lisa Peterer of Austria, who was in fourth place with a time of two hours, two minutes and 14 seconds. Brown had a time of 19 minutes and 57 seconds in the swim, one hour, six minutes and 28 seconds cycling and a time of 34 minutes and 37 seconds running.
It has been a strong start to the triathlon season for Zaferes as she also won the opening triathlon world series event in Abu Dhabi, United Arab Emirates on March 8. Zaferes led a 1-2 American finish as Taylor Spivey won the silver medal. Learmonth came away with the bronze medal. On the men's side, the winners so far this season are Mario Mola of Spain in the United Arab Emirates and Dorian Coninx of France in Bermuda.
There are two World Series triathlon events in Canada this year. The first is in Montreal, Quebec on June 29 and the second is in Edmonton, Alberta on July 20-21. Meanwhile, the bronze medal for Brown should give her confidence as she prepares for the 2020 Olympic Games in Tokyo.