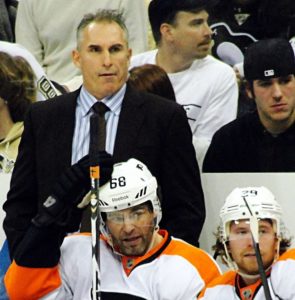 The St. Louis Blues of the National Hockey League named Craig Berube of Calahoo, Alberta their interim head coach on Monday. Berube replaces Mike Yeo of Scarborough, Ontario, who was relieved of his duties on Monday.
This will be the second time in Berube's career that he has been a NHL head coach. He previously coached the Philadelphia Flyers from 2013-2015. In 2013-14, he had a record of 42 wins, 27 regulation losses and 10 losses in extra time for 94 points overall. The Flyers advanced to the Stanley Cup Playoffs, but lost in seven games to the New York Rangers. The Rangers would go all the way to the Stanley Cup Finals that year before losing in five games to the Los Angeles Kings. Then in 2014-15, Berube had a record of 33 wins, 31 regulation losses and 18 losses in extra time for 84 points.
In addition to coaching the Flyers, Berube had been the associate coach of the Blues behind Yeo, the head coach of the Philadelphia Phantoms and the Chicago Wolves of the American Hockey League and an assistant coach of the Phantoms and Flyers. As a player, Berube played 17 seasons in the NHL with the Flyers, Calgary Flames, Washington Capitals, Toronto Maple Leafs and New York Islanders from 1986-2003.
In 1054 career NHL regular season games, Berube had 61 goals and 98 assists for 159 points. Known as an enforcer, Berube spent a lot of time in the penalty box. He had 3149 penalty minutes, including 305 penalty minutes with the Capitals in 1993-94.