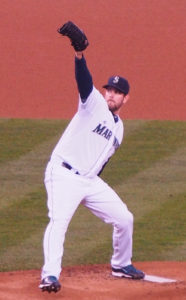 The New York Yankees acquired James Paxton of Delta, British Columbia in a trade with the Seattle Mariners on Monday. In return, the Mariners received prospect pitchers Justus Sheffield and Erik Swanson and outfielder Dom Thompson-Williams.
Paxton had a record of 11 wins and six losses with an earned run average of 3.76 in 2018. In 28 starts, he had a career high of 160.3333 innings pitched and 208 strikeouts. Also last year, Paxton gave up 134 hits, 67 earned runs and 42 walks with an excellent WHIP (walks and hits per innings pitched) of 1.10. On May 9, Paxton made Canadian baseball headlines as he became the first Canadian pitcher to throw a Major League Baseball no-hitter in Canada as the Mariners beat the Toronto Blue Jays 5-0.
The Yankees become the second team Paxton has played for after he played the last six seasons in Seattle. The last two seasons Paxton has reached double digits in victories as he had 12 wins in 2017.
It should be interesting where Paxton will fit into the Yankees starting rotation. On the Yankees website, the Yankees currently have Paxton number two in their starting rotation behind Luis Severino and ahead of Manahiro Tanaka, C.C. Sabathia and Sonny Gray. It will also be interesting to see if the Yankees will be in the running to re-sign J.A. Happ, who was an unrestricted free agent. It has been reported that the Toronto Blue Jays are interested in reacquiring Happ for the 2019 Major League Baseball regular season after trading him to the Yankees for Brandon Drury and Billy McKinney at the 2018 Major League Baseball trade deadline.