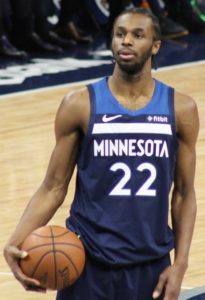 Andrew Wiggins of Toronto, Ontario became the Minnesota Timberwolves all-time leader in three points made on Wednesday. Wiggins achieved the team record in a 121-114 loss to the Dallas Mavericks.
Wiggins set the record with his 466th three point shot. He passes Anthony Peeler of Kansas City, Missouri, who had the old record of 465 successful baskets from beyond the arc.
Wiggins had three three-pointers in eight attempts in the Minnesota loss to Dallas. He finished the game with 26 points, five rebounds, three blocks and one assist.
On the season, Wiggins has recorded 39 three-pointers. He is second on the Timberwolves behind Karl-Anthony Towns, who has 67 three-pointers. Towns has the potential to pass Wiggins soon as he has 460 career three-point shots made in only 341 games. Wiggins meanwhile has played 417 games with the Timberwolves.
Wiggins is questionable for the Timberwolves' game against the Oklahoma City Thunder on Friday. That is because he is currently nursing a thumb injury.
James Harden of the Houston Rockets leads the NBA with three-points made this season. He has 101. The all-time leader in three-points made is Ray Allen of Merced, California. He made 2973 three-pointers with the Milwaukee Bucks, Seattle Supersonics, Boston Celtics and Miami Heat from 1996-2014.
The Timberwolves currently have a record of 10 wins and 10 losses. They are seventh in the Northwest Division.