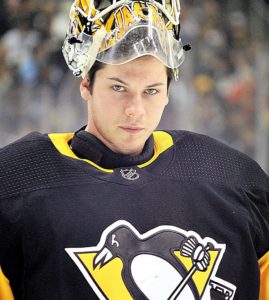 Tristan Jarry of Surrey, British Columbia recorded his third career shutout on Wednesday. Jarry made 28 saves as the Pittsburgh Penguins defeated the St. Louis Blues 3-0 at the PPG Paints Arena in Pittsburgh, Pennsylvania.
Jarry made 10 saves in the first period, 14 saves in the second period and four saves in the third period. David Perron of Sherbrooke, Quebec led the Blues with four shots on goal.
The Penguins got goals against the Blues from Alex Galchenyuk, Teddy Blueger and Stefan Noesen. For Noesen, it was his first goal as a member of the Penguins after 16 goals in two seasons with the New Jersey Devils.
The game on Wednesday was the second straight game for the Penguins against the Blues. St. Louis defeated Pittsburgh 5-2 on November 30.
Jarry improved to a record of six wins and four losses. Even though he has lost four times in 10 games, he has an excellent goals against average of 2.02 and an equally strong save percentage of .936.
Jarry's first two shutouts came during the 2017-18 NHL regular season. The first came on December 1, 2017 in a 4-0 win over the Buffalo Sabres and the second came on January 5, 2018 in a 4-0 win over the New York Islanders.
With the win, the Penguins improved to a record of 15 wins, nine regulation losses and four losses in extra time for 34 points. They are currently three points up on the New York Rangers for a playoff spot in the Metropolitan Division.