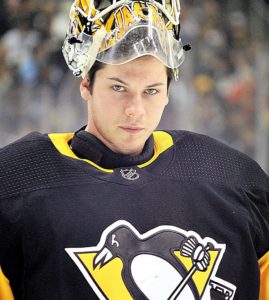 Pittsburgh Penguins goaltender Tristan Jarry of Surrey, British Columbia recorded his fourth career National Hockey League shutout on Friday. Jarry made 33 saves as the Penguins blanked the Arizona Coyotes 2-0 at the PPG Paints Arena in Pittsburgh, Pennsylvania.
Jarry made 13 saves in the first period, seven saves in the second period and 13 saves in the third period. Clayton Keller led the Coyotes with five shots on goal. Offensively, the Penguins got a goal from Brandon Tanev of Toronto, Ontario and Evgeni Malkin.
Jarry has a record of seven wins and four losses with a goals against average of 1.81 and a save percentage of .943 in 11 games this season. Jarry's save percentage and goals against average is the best in the National Hockey League.
Jarry could be considered not just the best goaltender in the National Hockey League right now, but one of the best players as well. He also shutout the St. Louis Blues on December 4 by a score of 3-0. Jarry's other two NHL shutouts came on December 1, 2017 in a 4-0 win over the Buffalo Sabres and on January 5, 2018 in a 4-0 win over the New York Islanders.
However despite not giving up a goal, Jarry was only the second star of the week. He was behind Washington Capitals defenseman John Carlson.
The Penguins then extended their winning streak to three games on Saturday with a 5-3 win over the Detroit Red Wings. Matt Murray of Thunder Bay, Ontario got the win in between the Penguins pipes. Kris Letang of Montreal, Quebec had a multi-point game as he had two assists.
Pittsburgh is currently in fourth place in the Metropolitan Division. At 17 wins, nine regulation losses and four losses in extra time, they have 38 points.